📈 Quick Metrics Recap
Metrics are the quantifiable measures of value that your solution can provide. Here at MEDDICC™, we have three different types of Metrics that we will use as part of the MEDDPICC Sales Methodology:
M1s: business outcomes you have delivered for your existing customers.
M2s: metrics you have personalized specifically to your customer
M3s: validated M2 after the solution has gone live. These can be used to go back into your M1 repository
What is the Metrics Database (mDB)?
The mDB is a purpose-built and user-centric streamlined database designed for simplicity and clarity. It helps you and your team access and utilize an organized view of all your active Metrics, meticulously aligned to specific opportunities and targeted industries.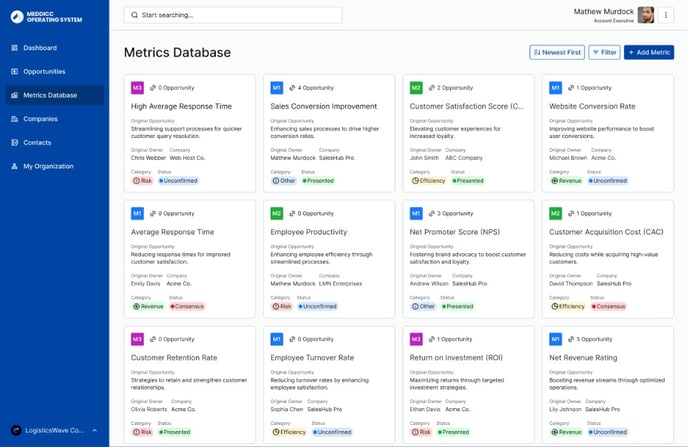 mDB is designed for all the diverse roles within GTM teams, here's some examples of how your team can benefit:
SDRs who require a reliable source of M1s for effective prospecting.
Product teams in search of fresh use cases.
Marketing professionals aiming to use up-to-date M1s in messaging and campaigns.
Enablement teams tasked with improving underperforming M1s.
By integrating mDB, all team members can contribute to a more informed, efficient and successful customer lifecycle.
How to access the Metrics Database (mDB)?
You can access the mDB directly from the left-hand side menu of the mOS, by simply clicking Metrics Database.