All the metrics displayed on the mDB screen have been used by you and your team in all your opportunities. Think of them as delivered business outcomes you have delivered and you can pick whichever one you want to link it to a new deal. This help file will walk you through all the data accessible for each metric on the mDB.
Accessing the Metrics Information screen
To access this screen, simply hover on any Metric displayed on the mDB screen, select the ellipsis at the top right corner and choose Metrics Information.
Once this is done, a side panel will open with various options to choose from.
Metrics Detail
The Metrics Detail section will open by default. On this panel, you will have access to basic details about this specific metric: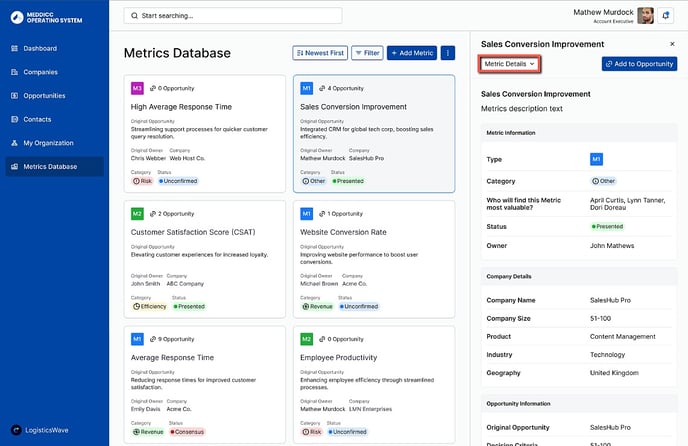 Type: if this is a M1, M2 or M3 metric (🔍 Find out more)
⚠️ It is only possible for you to create M1s from the mDB screen. If you want to create M2s and M3s, you need to do it through the Opportunity screen.
Category: if it's a Risk, Efficiency, Revenue or Other metric.
Negative Impact/Pain: what is the pain associated? What issue are you solving?
After state: what is the state after you used this solution? What's the outcome?
Positive Impact: here you can input the value outcome(%/$) achieved by implementing the solution. You can add more than one.
Description/Story: you can add more information about this metric.
Solution or Product purchased: what is the action or strategy you used to address the pain.
Who will find this Metric most valuable?: will display the Economic Buyer and the Champion of the opportunity this M1 is based on.
Status: Unconfirmed (relevance of this metric is unconfirmed), Discussed (relevance of this metric has been discussed but not agreed to), Consensus (relevance of this metric has been confirmed by the customer).
Owner: who in your team is the owner of the opportunity this M1 is based on.
Information about the company that this M1 is based on.
Information about the opportunity that this M1 is based on.
Supporting Documents
On the side panel, you will also have access to all the documents supporting this metric.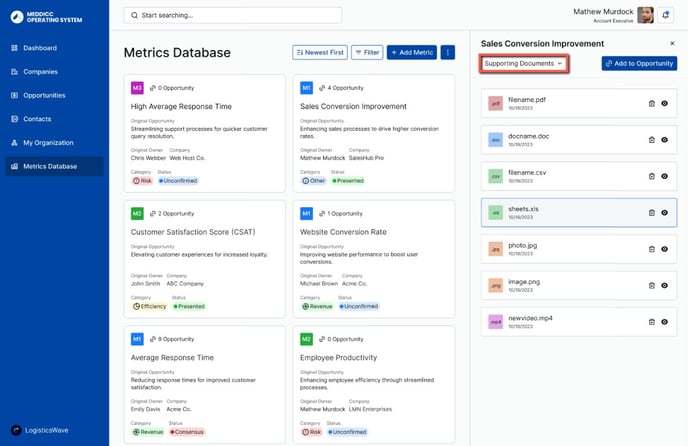 Remember that you can upload various resources such as PDF, Doc, CSV, XLS files, PNG of JPEG pictures and even MP4 videos.
💡 Use the eye icon to view the resource directly on-screen or use the bin icon to delete it from this metric.
Recommended M1s
Here you will find other similar M1s already added to the mDB that we recommend you should also add to your opportunity.
Linked Opportunities
On this section you'll find a comprehensive list of all opportunities on the mOS that you and your team have used this specific metric for.