12 January 23
Time to read: 4 minutes
MEDDIC & Moneyball #1: Data vs Emotions
Despite it being one of the best sports movies of all time, people can aspire to want a bit more than the Rocky franchise: do we all need to take a pummelling to win the game?
Everyone loves a cinderella story - an organization, team, or individual that overcomes the odds and finds a way to win.
Thankfully, the answer is not getting pummelled in a boxing ring, and the evidence is not a screenplay written by Sylvester Stallone as he watched a journeyman boxer.
The Moneyball Fairytale
It's from a real-life sports franchise, a baseball team in California, that aimed to revolutionize their approach to how they played the game. By doing so, they rebuilt their historic organization and forever changed how the game of baseball was played - this change in approach was called 'Moneyball'.
In this article series, we will look at how the Oakland Athletics took the biggest gamble in Major Baseball League history, changing their approach to fundamental baseball aspects to compete with the best.
Just like how many sales reps and teams battle with competitors who have 10x the budget, the talent, and the resources to win deals, the Oakland A's had the problem of battling against historic baseball franchises like the New York Mets and the Boston Red Sox, consistently losing their best players year on year to these teams who had bottomless pockets.
Their rebuilding of their team and what would become the sport is legendary, and their bravery and innovation can translate to so many other sports and industries.
The way MEDDIC functions and the overall ethos of Moneyball go hand in hand, and we will break it down through this series to show you each aspect, starting with how they reframed their mind going into decision-making.
Data vs Emotions
Having strong decision-making capabilities can catapult your sales career like nothing else. By using sensible, rational, and effective methods behind making your decisions, you can find success never thought possible.
Unfortunately, it does not matter who you are, your decision-making can become skewed. Bias creeps in, as we let our past experiences and memories factor into what we do and how we do it. It makes sense, as it is a survival mechanism that has been in the human species forever - but in the selling industry, being optimal is what wins, and being biased can lead you to the least effective outcome.
The remedy is not only available to us, it's all around us. It's data - there's so much of it, the hardest part is knowing which areas to leverage.
By applying data to how you make decisions, you remove your conscious or subconscious bias, you remove the dependency on your skewed experiences and you open the door to making the decision that can lead to the best possible outcome.
Separating Your Biases From Decision Making
Billy Beane, general manager of the Oakland A's during the Moneyball period, was not able to do this on his own - he had to hire an economics graduate out of Harvard called Paul DePodesta, who had never played sports in his life.
Having this unbiased, data-driven mind analyzing his approach to the game he loved led him to success that never seemed possible.
Once Beane was open to his inadequacies in separating emotions from data, he had to understand how to leverage the data and analytics that were most meaningful - in sales, this solution already exists.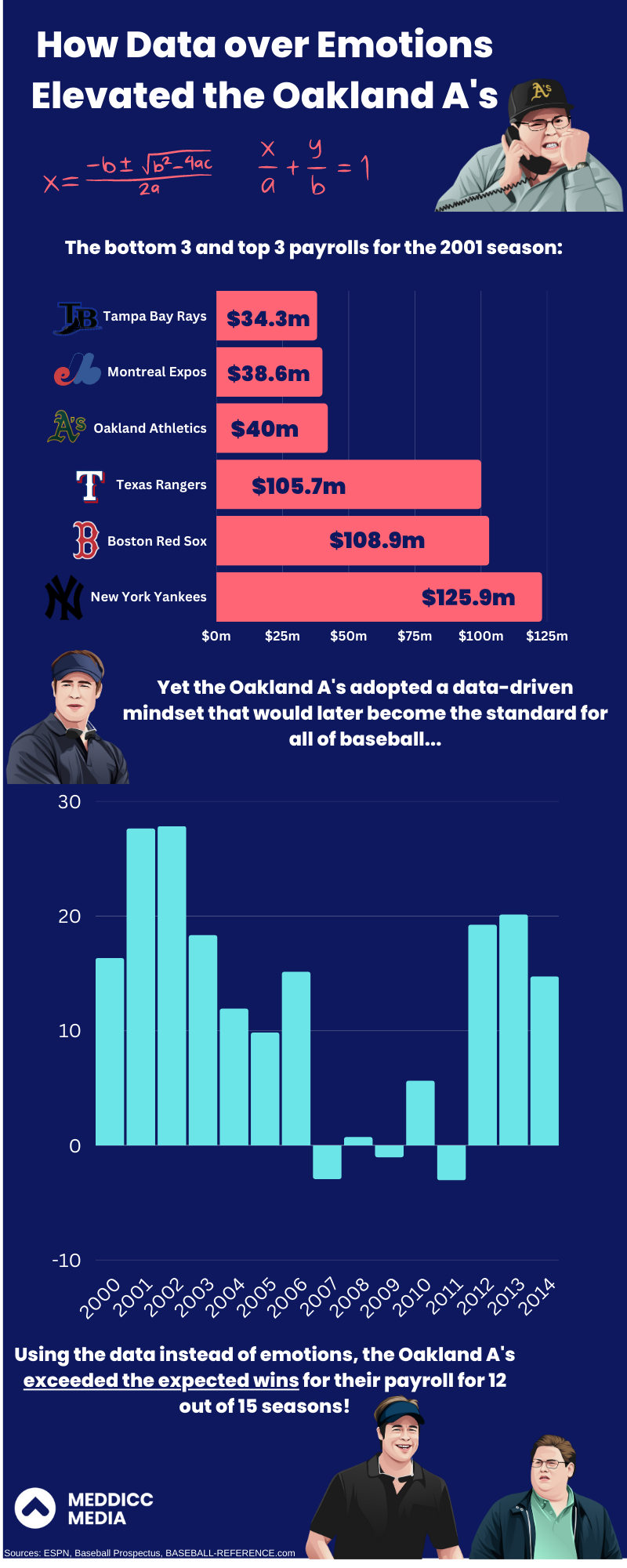 Why MEDDIC is the Moneyball of Sales
MEDDIC has ultimately changed the sales game in the same way Moneyball has revolutionized baseball - by applying the MEDDIC framework to your sales, you begin to make decisions based on qualifications, metrics, and criteria that allow you to determine where you place resources.
The need for gut instinct or making emotional decisions in sales is something of the past - the framework is out there, ready to be applied to your complex sales deals and guide you through data, metrics, and pain points as opposed to any predisposed biases.
In sales, you have wins and losses that can have a myriad of factors or components behind them that you never were privy to. As Billy Beane himself says:
"You're always analyzing your process, making sure the reason you weren't correct wasn't through serendipity, but the reason was that you have a good process and you're doing things properly."
Sales is an ever-changing playing field, and not being adaptive with your processes or methodology will cause you to fall behind.
After removing the reliance on bias and emotions, the Oakland A's would go on to break records and win 20 games in a row. The person who hit the game-winning homerun, Scott Hatteberg, was someone unwanted by every other franchise in the league, but due to Moneyball seeing the value in him due to his statistics, they brought him on board for pennies.
Bringing a MEDDIC mindset into your organization can give you the same benefits; it will allow you to spot diamond-in-the-rough opportunities that you would have missed before, breaking through the walls of emotional bias to learn from your sales process and constantly refine your approach.
It takes strong leadership like Billy Beane to enable MEDDIC throughout an organization, but when done correctly it will become the common language in the business - a playbook used by everyone where everything can be broken down, analyzed, understood, and improved.
Adopting a MEDDIC mindset can be scary, but it is a surefire strategy for leveling up your business. Bravery is key, and not following conventional failure when unconventional success is right around the corner.
"We always have to analyze our foundation because very quickly a culture and tradition of doing things can get ingrained in a very short period," said Billy Beane in an interview. "If you assume from a false platform that you are correct, you can go really awry."
Ask yourself this question - as a salesperson, how certain are you that you're on a trajectory for success? How often do you make decisions without data, using your experiences or emotions?
How often have you noticed other sellers or people within an organization make clouded decisions from a platform of certainty?
You can take steps to build from data and qualification today, using the MEDDIC mindset and enabling a methodology that can quickly become a success driver within your organization.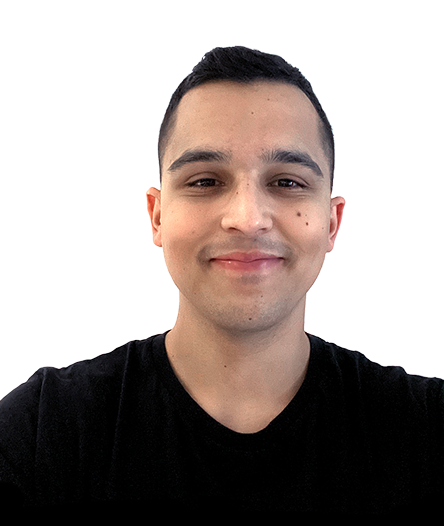 Cameron
Cameron Dhaliwal serves as the Content Manager at MEDDICC, with a rich history in regional journalism, public relations at PokerStars, and digital marketing agencies. Specializing in content creation and strategy, Cameron's expertise spans media, technology, and sales enablement. His work at regional news outlets laid the foundation for his passion in Public Relations, which was further honed during his time at PokerStars. Now at MEDDICC, he leverages his diverse skill set to optimize sales and GTM content.